Eesti100 logo ja sellest inspireeritud Alko1000 (pilt internetist). / A logo for Estonias 100'th independence day. Alko 1000 is an alcohol market established in Latvia next to Estonian border.
| | |
| --- | --- |
| Läbi ajaloo ja erinevate kultuuride on alkohol omanud inimeste elus tähtsat rolli. See on ka üks väga eriline nii seaduslikult kui ebaseaduslikult liikvel olnud valuuta. Iial ei ole see omanud sellist tähendust kui tänapäeva kapitalistlikus maailmas. | Thru all the human history and cultures, alcohol has always had important role. It is one of the 'exchange currency' used legally and illegally. Never before so significant as capitalist world today. |
Rahaliikumine alkoholi aktsiisi näol. / Cashflow by alcohol taxes.
Alates Eesti Vabariigi taasiseseisvumisest on käinud meie põhjanaabrid soomlased Eestis. Ja seda mitte ainult selleks, et külastada meie ilusat maad, vaid ka selleks, et kaasa viia Soome odavamat alkoholi. Samuti viisid iga reisiga eestlased kaasa oma Soome sõpradele tulivett.

Hinnanguliselt liigub tänu alkoholi aktsiisi tõusule 43 miljonit eurot aastas maksuraha Lätti. Kui arvestada sinna juurde see, et eestlased käivad nüüdsest lisaks alkoholile Lätist ostmas ka ehitusmaterjale ja atokütust ning Soome turistid ei peatu enam sellises mahus Eestis võib see summa olla 3-4 korda suurem.
Eesti Riigi aasta eelarve on alla 10 miljardi euro. Seega kingitakse märgatav summa oma naabritele.

From the 1990 when Estonia regained freedom from sovjet occupation, started our northen neighbours to visit Estonia, not only because Estonia is a beautyful country but also to get cheaper alcohol from here.

Thanks to alcohol tax rise moves about 43 miljon euros per year to Latvia. If we add to that estonians started to get their building materials and car fuel from Latvia plus Finnish tourist won't stop anymore as much in Estonia but drive straigth to Latvia, can this mean that total loss per year would be 3-4 times higher.
Note. Estonian yearly budget is less than 10 biljon euros. So we give away a significant sum from that.
Pilt ärileht.delfi.ee(Toom Tragel) / Image ärileht.delfi.ee(Toom Tragel)
Taavi Lepik kutsus Eesti 100'ndaks sünnipäevaks oma facebooki lehel 100 lähedasemat sõpra liituma ettevõtmisega, et sõita Lätti maksutõusude vastase aktsiooni näol. Väga lühikese ajaga oli neid juba üle tuhande.
Kui paar aastat tagasi otsustas Eesti valitsus iga-aastaselt hakata alkoholi- ja kütuse aktsiise kergitama, leidus paar ettevõtlikku inimest kes sellest olukorrast kinni haarasid ja Eesti-Läti piirile oma alkoholikauplused avasid.
Taavi Lepik – enthusiast who called about 100 friends to go to Latvia on Estonias 100'th aniversary(24.02.2018) on his facebook page. It was driven against unreasable tax rises. In a very short time already 1000 people joined the cause.
When Estonian coverment started yearly tax rise for car fuel and alcohol, started few Estonian businessmen their alcohol shops next to Estonian-Latvian border.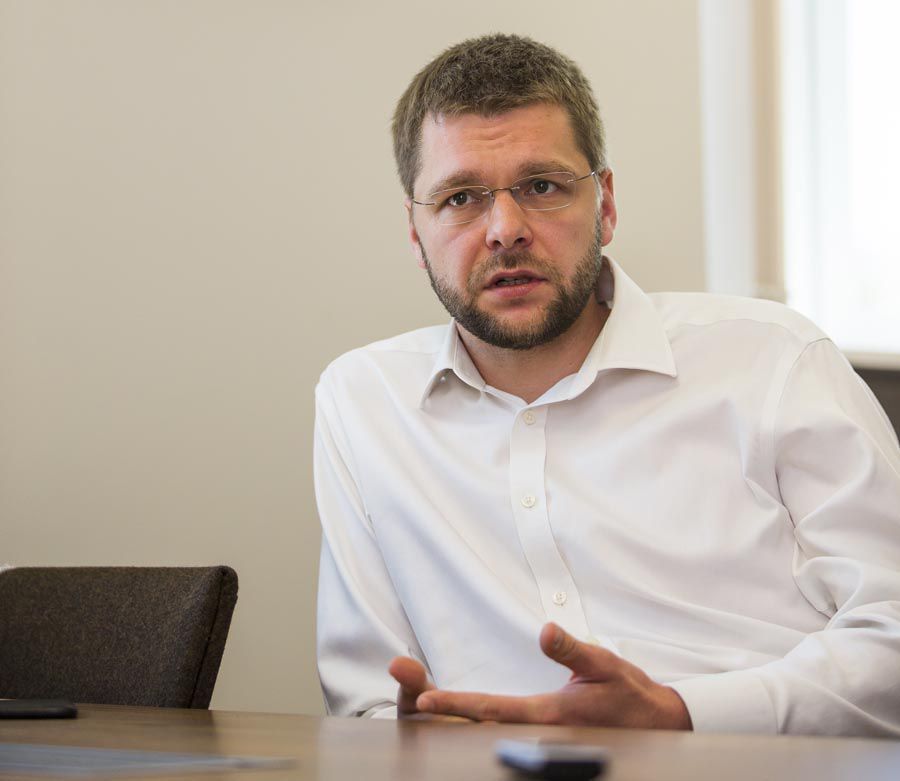 Jevgeni ossinovski (FOTO: Eero Vabamägi / Postimees)
Kaua aega kiitsid poliitilised erakonnad, et aktsiiside tõstmine on hea asi ja see toob vaid raha sisse. Isegi siis kui reaalsed numbrid näitasid vastupidist. Mida rohkem aktsiise tõsteti, seda vähem raha riigikassasse voolas.
Veel viimane poliitik kes jäärapäiselt kiitnud aktsiiside tõusu on Sotsiaaldemokraatliku erakonna liider Jevgeni Ossinovski. Ja karta on, et see ei jõua talle ilmselt iial pärale.
Nii mõnigi on heitnud nalja, et Ossinovski kandib meelega Eestist raha Lätti, et oma papa patte lunastada. Teatavasti sattus Jevgeni isa Lätis kohtu alla seoses altkäemaksu andmisega.
Vaid päev enne Eesti Vabariigi 100'ndat, 23 veebruaril avaldati ajakirjanduses uudis, et sotsiaaldemokraatide toetus on langenud rekordmadalale, vaid 8%.
For a long long time political parties in Estonia claimed, that tax rises are good thing thats going to bring alot of increase in our country's budget. Despite the actual numbers. The more taxes rose the less was actual yearly income.
Last polititian who stays strong with this opinion is a leader of social democratic party Jevgeni Ossinovski. And it looks like he will never understand the real situation.
Many people have joked about, that Ossinovski is beiling his daddy out with that moneyflow to Latvia. His dad was mixed in somesort of bribe case that went to Latvia's court.
Only day before Estonia's 100'th birthday newspapers wrote that peoples support for social democrats is in it's lowest point(8%) since 2010.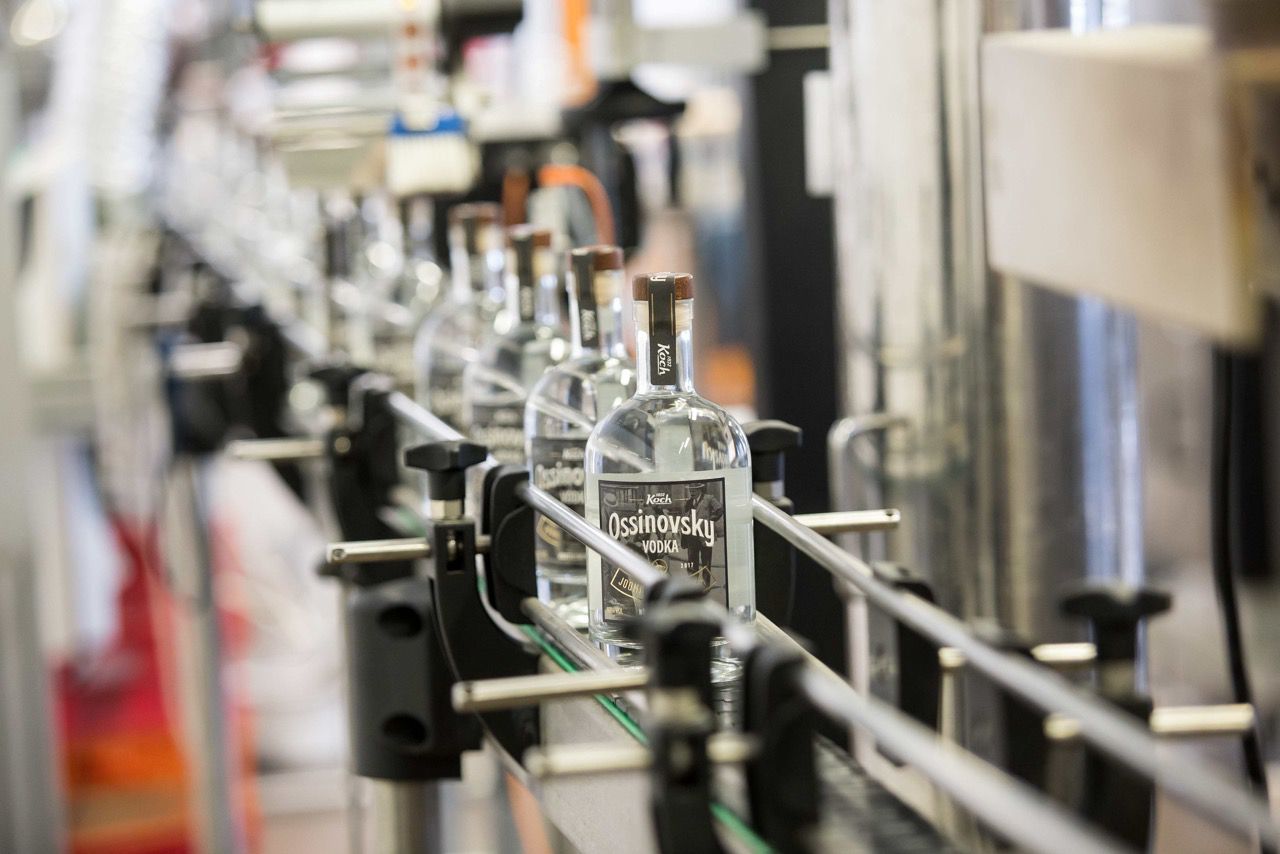 Alkoholitootja Koch hakkas 2017 aasta märtsist tootma Ossinovsky viina millel kiri "Joome poole vähem".
Koch factorys started to produce Ossinovsky vodka with printed on slogan "We drink only half as much".
Piirituse salavedu Soome lahel esimese vabariigi aegu. / Bootlegging spirit on Gulf of Finland during 1920's.
Tulivesi
Tulivesi (1994) / The Firewater (1994)
| | |
| --- | --- |
| Kahe maailmasõja vahel kuulutas Soome valitsus välja 12-aastase alkoholikeelu perioodi. See tõi endaga kaasa väga aktiivse ja kasumliku salapiirituse äri Eestist Soome. | Towards the end of the 1920s the Finnish goverment introduced a twelve year long ban on alcohol. This resulted in very lively and profitable spirit smuggling from Estonia to Finland. |